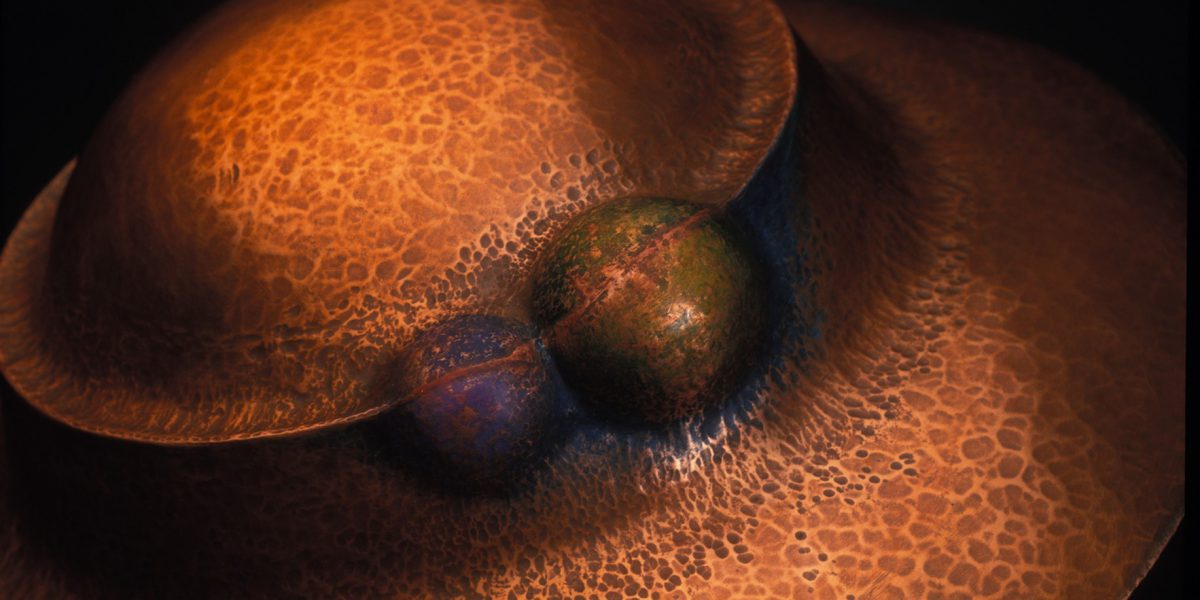 Past Exhibitions
Craft Forms 2000
December 1, 2000 – January 22, 2001
Ethel Sergeant Clark Smith Gallery
Juror
Gail M. Brown
Juror's Statement
I am an avid audience member for contemporary craft, anticipating each upcoming opportunity to experience tactile, sculptural forms in a range of media, from makers of distinct visual vocabulary, varied experience and personally evolved ideas.  I aspire to connect with work that exuberantly offers intuitive communication and the indisputable commitment of each artist's message and joyous material exploration.
This opportunity to jury CRAFT FORMS 2000 offered a generous measure of the above!
The clearly articulated "visual voices" I have selected for the show employ an emotional and intellectual language easily and instinctively decipherable: a bountiful passion for the medium of choice, strong craftsmanship, the complex exploration of possibilities and a rightness of aesthetic choices which honor both the historic, traditional continuum and celebrate contemporary possibilities.  Within this group of work is also reflected the highly expressive potential of craft: concepts and intentions, humor and the "something unexpected" for which this viewer waits eagerly.
There is an overall integrity present herein: a power conveyed through the intimacy of domestic scale craft forms; an intense celebration of one's own visual language; almost admirable and, sometimes, awesome, risktaking with ideas and issues; and  , always the unmistakable fingermarks of the passionate maker!
I single out for recognition the following maker' work for exceptional imagination, personal visual language, craftsmanship and abundance of "joy":
            Seth A. Barrett            Pub Table Structure
            Charissa Brock            #6-2000
            Rain Harris                  Supine
            Eunhi Hwang              Self Portrait II
            Evan H. Larson           Mandala Brooch Series
            Felicia Szorad             Groweth and Celestial
Artists
Donna Anderson WA
Emanuela Aureli CA
Kosmas Ballis FL
Seth A. Barrett NY
C. Bradley Bartlett VA
JoAnn Baumann IL
Karren K. Brito OH
Charissa Brock PA
Lili Bruer MO
Patricia Burleson VT
Robin Campo GA
Ann Citron VA
Jeffrey M. Clancy PA
Sam Clarkson CO
Jim Cohen WI
David T. Collins PA
Elise Cox OH
Donna D'Aquino OH
Victor DiNovi CA
Mary Donald CA
Todd W. Eick NY
Rachel Fenker IL
Frankie Flood IL
Herbert Friedson KS
Susan Taylor Glasgow MO
David Griffin IL
Celina Grigore CO
Rain Harris PA
Mindy Hawkins IN
Maggy Rosycki Hiltner KS
Linda Louise Horn PA
Matt Hutton CA
Eunhi Hwang IL
Jesse Joern PA
Susan Kavicky IL
Linda Kaye-Moses MA
Mary Kester NY
Anya Kivarkis IL
Patricia A. Klamser WA
Maren Kloppmann MN
Evan H. Larson MN
Steve Lee IL
Susan J. Lewis FL
Christine E. Lomax PA
Ana M. Lopez CO
Cathy W. Markowitz CT
Karen Thuesen Massaro CA
Karen Misher PA
Valerie Mitchell CA
Jummi Miyahara IN
Paulette Myers IL
Dennis Nahabetian ND
Raymond M. Nelson PA
Yukiko Nishioka IL
Terry O'Day OR
Carla Stelios Paraskevas CT
Jess Parker CA
Andrew Peklo III CT
Nila Petty IL
Hilary Pfeifer OR
George Sacco OH
Porntip Sangvanich CA
Leslie A. Schug OH
Elizabeth Whyte Schulze MA
Virginia Scotchie SC
Rachel Selekman NY
Andy Shaw PA
Dong-Won Shin MI
Josh Simpson MA
Anne M. Solis TN
Felicia Szorad NC
Lynn Szymanski NH
Sadie Wang TN
Donovan W. Widmer IL
Peggy Wyman CA
Yoshiko Yamamoto MA
Margaret Yaukey NC
Image: Felicia Szorad, Groweth