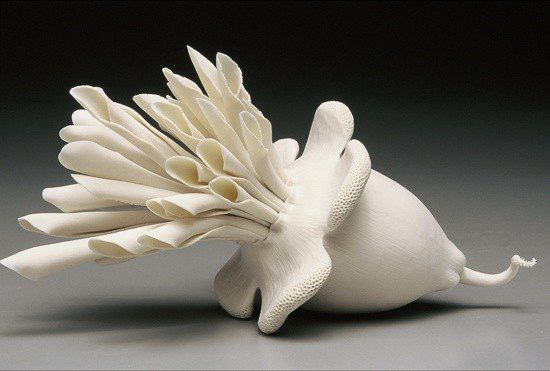 Past Exhibitions
Craft Forms 2004
December 4, 2004 – January 20, 2005
Ethel Sergeant Clark Smith Gallery
The tenth annual "Craft Forms" attracted a recordbreaking 789 entries by craft artists from the United States.  Melissa Post, juror for "Craft Forms 2004," chose 87 objects, by 74 artists from 26 states, for this year's show.  She also will select  x craft artists to receive prize awards totaling $3,000.
An expert in the fine and decorative arts, Ms. Post is the Curator of Craft + Design at The Mint Museums.  She has organized and curated exhibits at the Brooklyn Museum of Art, the Bard Graduate Center and the Corning Museum of Glass, where she was interim curator, as well as at The Mint Museums.  She has lectured at museums throughout the United States, on topics including the history of craft and design, and has juried art and craft exhibitions.
Awards

Adornment
Geoffrey D Giles, Self Portrait, Cultivated Perception
Jesse Mathes, Elizabethan Gown
Ceramics
Adrienne Dellinger, Cruet Set
Lindsay Feuer, Hybrid Series No.1
Fiber
Ann Coddington Rast, caduceus
Furniture
Brent Skidmore, Blonde Variables of a Canyon
Glass
JoAnn Baumann, Not This One
Metals
Frankie Flood, Psycho Pizza Cadillac
Renée Zettle-Sterling, Survival Tip #26
Wood
Michael Werner, Steps at La Brea
All Artists
Elizabeth Alexander
Jill Baker
Kenneth Baskin
JoAnn Baumann
David Bausman
Nancy Belfer
Jerry Bennett
Nisa Blackmon
Cathy Bolding
Joanne Taylor Brown
Phil Brown
Steven Butler
Lisa Call
Colleen Carlson
Ashley Chavis
Karen Chu
Eileen Cohen
Adrienne Dellinger
Brian Dieterle
Michele C. Drivon
Teresa Faris
Lindsay Feuer
Frankie Flood
Geoffrey D. Giles
John B. Gilliam
Meredith Re Grimsley
Robin L. Haller
Karen Hampton
Michele Hardy
Lana Heckendorn
Steve Hilton
Georgina Holt
Ju-Wen Hsiao
Satomi Kawai
Catherine Kleeman
Maris Krasnegor
Janet Kurjan
R.A. Lanfer
Timothy Lazure
Kathryn Legett
John Leonard
Peggy Love
Jeff Mack
Chris Martin
Jesse Mathes
Frank McPherson
Takako Muramatsu
Brady Noble
Kathryn Osgood
Lynn Paige
Ann Coddington Rast
Steven Roberts
Michael F. Rohde
Kathleen M. Roig
Jackeline Rosa-Martinez
Dorothy Roschen
Corliss and John Rose
Mark Rossier
Jacqueline Sanchez
Benjamin Schulman
Nick Sevigney
Patricia Shaw
Josh Simpson
Brent Skidmore
Carol-lynn Swol
Von Venhuizen
Pauline Verbeek-Cowart
Barbara J. Walker
Jennifer Wankoff
Barbara W. Watler
Brian Weissman
Michael Werner
Renee Zettle-Sterling
Valerie Zimany

"Craft Forms 2004" will open with a festive Preview Party on Friday, December 3, from 6:00 to 10:00 p.m. at the Wayne Art Center.  The event will feature a first look at "Craft Forms 2004," an elegant reception with both martini and wine bars, a silent auction, a holiday craft sale and a fine art sale.  Melissa G. Post, juror for "Craft Forms 2004," will be the special guest.  Hors d'oeuvres and dinner will be provided by Jimmy Duffy & Sons Catering and décor by Moore Events and Valley Forge Flowers.  Stan Slotter and Paul Gehman will offer improvisational jazz. 
"Craft Forms 2004" has been sponsored by The Bryn Mawr Trust Company.  Other major sponsors include Complete Financial Outsourcing, Jimmy Duffy & Sons Catering, Susan J. Gerrity Agency, Inc., The Great Frame Up, The Haverford Trust Company, C.F. Holloway III & Company, The Little House Shop & The Little House Shop Stationers, Alan McIlvain Company, Moore Events, Warren Muller, National Penn Bank, Radnor Financial Center, Star Printing, Total Table, Valley Forge Flowers and Wyeth Pharmaceuticals.
Image: Lindsay Feuer