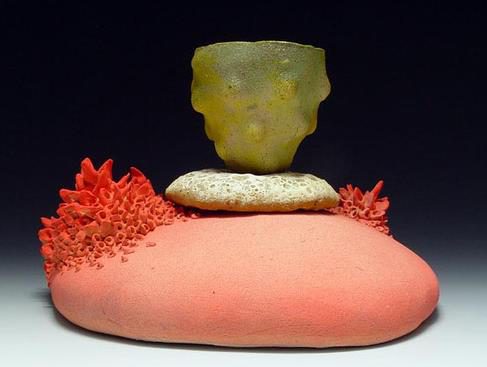 Past Exhibitions
Craft Forms 2006
December 2, 2006 – January 24, 2007
Davenport Gallery
The Wayne Art Center announces that "Craft Forms 2006," an international juried exhibition of contemporary craft, will open in the Center's Davenport Gallery on December 2, 2006, and will continue through January 24, 2007.  This will be the first exhibition to be held in the new Davenport Gallery. 
The twelfth annual "Craft Forms" attracted 726 entries.  Juror Gretchen Keyworth chose 106 works by 94 artists for this year's show, which will feature works in ceramics, wood, fiber, metal, glass and mixed media. Artists from 27 states are represented. 
The "Craft Forms 2006" juror, Gretchen Keyworth, is Director and Chief Curator of the Fuller Craft Museum in Brockton, MA.  Keyworth co-founded Signature galleries in Boston, Chestnut Hill and Mashpee, MA, and Grohe Glass Gallery in Boston, MA.  She has served as director and advisor for several prominent craft shows and has independently curated many craft exhibitions.  In addition, Keyworth is an advisor and consultant on issues of branding and operating museums. 
Gretchen G. Keyworth, juror for "Craft Forms 2006," will be the special guest at the Preview Party.  She will present prizes valued at over $3,000 to selected artists featured in this year's show. 
Awards
Grand Award Winner: John Kent Garrott, Espresso Servers #1, #2, #3
Grand Award Winner: Keri Straka, Nature Amplified #2
Award Winner: Ellen Scott, Sewing Circle
Award Winner: Mark Sfirri, Big Dinner Guest
The public is invited to the Center's Fine Craft Sale on Saturday, December 2, from 10:00 a.m. to 5:00 p.m.  Regional craft artists will offer one-of-a-kind handcrafted items, including ceramics, glass, precious and semiprecious jewelry, wood-turned pieces, apparel and hats, handbags and accessories.  The sale is free and open to the public. 
The public is also invited to two other special "Craft Forms" events.  Gretchen Keyworth will deliver a Juror's Talk, in which she explains her selections for this year's show, on Saturday, December 2, 2006, from 1:00-3:00 p.m.  On Thursday, January 18, 2007, from 7:00-9:00 p.m., selected artists featured in "Craft Forms 2006" will return to the Center for a Meet the Artist Discussion.  Both events will be held in the Davenport Gallery and are free and open to the public. 
Image: Keri Straka, Nature Amplified #2