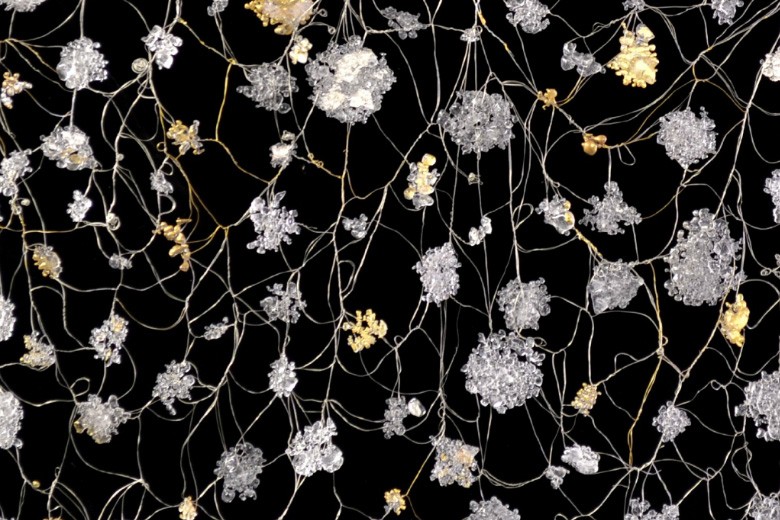 Past Exhibitions
Craft Forms 2016
December 2, 2016 – January 28, 2017
Wayne Art Center is very proud to announce the 22nd celebration of Craft Forms.
Craft Forms 2016, the International Juried Exhibition of Contemporary Crafts, will be on display at the Wayne Art Center from December 2, 2016 − January 28, 2017. 
Want to learn more about each work on display?
View the Craft Forms 2016 Artist Statement Book

View the Craft Forms 2016 Catalog
This eagerly anticipated exhibition, celebrating its 22nd year, is dedicated to enhancing the public's awareness of fine contemporary craft while providing a venue for established and emerging artists to share their creative endeavors.  Craft Forms is internationally recognized as one of the premiere contemporary craft exhibitions.  The finest works of ceramics, wood, fiber, metal, glass, mixed medium and 3D printing are featured, supporting the Center's mission of expanding the public's awareness of fine contemporary crafts, and significantly benefiting all educational and outreach programs for children and adults.
Juror - Stefano Catalani
Executive Director of the Gage Academy of Art and former Director of Art, Craft & Design at Bellevue Arts Museum
Stefano Catalani joined Bellevue Arts Museum in 2005 as Curator and was appointed Director of Art, Craft, & Design in February 2010. He has conceived and organized more than twenty acclaimed exhibitions exploring the dynamic field of art, craft, and design. An Italian native, Catalani relocated to Seattle in 2001. His classic studies in Italy provided him with a strong theoretical background in art history and philosophy. At BAM, he focuses on the fluidity between art, craft, and design, emphasizing both tradition and innovation. During his tenure at BAM, Catalani has written and/or contributed to nine exhibition catalogues published by Bellevue Arts Museum, among them an award winner from the American Association of Museums (2007, Dim Sum at the On-On Tea Room: The Jewelry of Ron Ho).
Highly regarded in the field of contemporary art, Catalani has been chosen as a nominator and juror for many awards, including The Louis Comfort Tiffany Foundation Awards, the Pollock-Krasner Foundation, the John Simon Guggenheim Memorial Foundation Fellowships, the Neddy Fellowship Award, (Behnke Foundation, Seattle, WA), the Irving and Yvonne Twining Humber Award for Lifetime Artistic Achievement (Artist Trust, Seattle, WA), and the Contemporary Northwest Art Awards (Portland Art Museum, Portland, OR). He also serves as a guest lecturer at the University of Washington, Evergreen State College, and other educational institutions.
AWARDS

Best in Show
Mary Zicafoose, Mountain for the Buddha: Wine
Juror's Awards
Beth Blankenship, Oiled Elder
John Conver Lutz, Turning Point Hall Table
Michael F. Rohde, Golden
Rea Rossi, Reverberate
Peeta Tinay, Ring Border Basket with Lattice in Black and Brown
Daniel J. Wildolff, Runner
Awards of Merit
Andrea Donnelly, A Labyrinth of Symbols
Teresa Faris, Collaboration with a Bird V, #4: Condensation
Dani Ortman, Pins and Needles
Gerri J. Spilka, Interactions #34: Arterials & Recesses
John D. Utgaard, Reaction
Bethany L. Wood, I Used to Sketch Things
Honorable Mentions
Lucrezia Bieler, Heidi
Ben T. Jordan, The Cowboy and His Cow
Dominie M. Nash, Grandfather's Garden
Richard G. Nolan, Bengal
Stephen S. Robison and Kathleen Guss, Pasta Box
David Rozek, Morphic End Tables
Paul R. Sirofchuck, Emergence Jewelry Armoire
FEATURED ARTISTS
Liz Alpert Fay, CT
JoAnn Axford, NY
Sam Bateman, WA
John Beaver, CA
Marilyn Belford, NJ
Lisa Belsky, OH
Lucrezia Bieler, FL
Beth Blankenship, AK
Eva Camacho-Sanchez, MA
Al Canner, CO
Jocelyn Châteauvert, SC
Xin Chen, IA
Kate Cusack, NY
Christopher Darway, PA
Jeffrey Lloyd Dever, MD
Ellen Dickinson, NY
Andrea Donnelly, VA
Teresa Faris, Wisconsin
David Ferro with Carly Van Anglen, PA
Tracy Fiegl, NY
Holly Fischer, NC
Raymond Gonzalez, KY
Jill Baker Gower, NJ
Carrie Gustafson, MA
Carol Hall with Michael Kehs and Dan Greer, PA
Michelle Hayden, KY
Holland Houdek, IA
Daniell Hudson, NY
Jacqueline Johnson, NY
Jess Jones, GA
Ben Jordan, MT
Elizabeth Keller, SC
Elaine Kinnaird, AL
Lisa Klakulak, NC
David Knopp, MD
Liz Kuny, NJ
Wen-Dan Lin, MO
Mimi Logothetis, NC
Kari Lonning, CT
John Conver Lutz, PA
Jennifer Martin, PA
Lydia Martin, NY
Dylan Martinez, IN
Cameron Anne Mason, WA
Helen Mason, DE
Stephen Maurer, MA
Jennifer McCurdy, MA
Dorothy McGuinness, WA
Rachel Meginnes, NC
Joe Muench, IA
Dominie Nash, MD
Richard Nolan, NY
Dani Ortman, Canada
So Young Park, NY
Inni Pärnänen, Finland
Leslie Pontz, PA
Mira Ramchandani, PA
Denise Roberts, WV
Stephen Robison, WA
Michael Rohde, CA
Seth Rolland, WA
Judith Rosenthal, NJ
Rea Rossi, PA
David Rozek, PA
Shana Salaff, CO
Dinah Sargeant, CA
Michael Scarborough, NY
Mark Sfirri, PA
Diane Siebels, VA
Bounkhong Signavong, NJ
Denyse and Rod Simair, Canada
Paul Sirofchuck, PA
Nancy Slagle, TX
Lindsey Snell, OR
Gerri Spilka, PA
Joy Stember, PA
William Sulit, PA
Peeta Tinay, WA
John Utgaard, KY
Jenny Walker, MA
Gizella K Warburton, England
Daniel Widolff, PA
Cheryl Wilson Smith, Canada
Catherine Winkler Rayroud, TX
Bethany Wood, IA
E. Douglas Wunder, PA
Yuan Yi, Taiwan
Cheryl Zamulinsky, MA
Mary Zicafoose, NE

2016 COMMITTEE
Each year, the Craft Forms Committee plays an important role in ensuring that the exhibition is at its best ever. We thank the 2016 Craft Forms Committee for their hard work and dedication.
Chair
Franz Rabauer
Committee
Bob Campbell
Nancy Campbell
Trudy Campbell
Rosemary Campellone
Debbie Cassidy
Cathy Darlington
Chris Darway
Jennifer Edwards
Karen Louise Fay
Mary Ellen Fogwell
Emma Fogt
Sherry Frank
Jennifer Frudakis
Ona Hamilton
Kate Hochner
Victoria Kavalerov
Bozena Korczak
Janet Kravis
James Le
Barbara Leigh-Ranck
Wendy Liss
Carol Magner
Kelly Martins
Maureen McAleer
Jean McKinney
Joann Neumann
Abby Ober
Ellen Plotkin
Sabine Rehm
Ellen Rieder
Victoria Rome
Josephine Schmidt
Priyanka Setty
Marianne Tebbens
Susan Teti
Bob Thomason
Orysia Marie Trevisan
Coryell Urbam
Michael Walsh
Mary Webb
Henry Winsor
Josephine Winsor
Maria Wolf
Denise Zantzinger