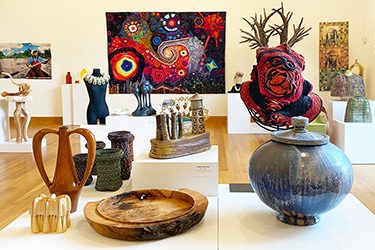 Past Exhibitions
CraftForms 2021
December 4, 2021 – January 29, 2022
Davenport Gallery
CraftForms 2021, the 26th International Juried Exhibition of Contemporary Fine Craft showcasing works in basketry, ceramics, decorative fiber, furniture, glass, jewelry, metal, mixed media, paper, wearable art, and wood.
Exhibition: December 4, 2021 through January 29, 2022.
ABOUT THE JUROR
Carol Sauvion – Executive Director, Craft in America Carol Sauvion is the Creator and Director of Craft in America, the documentary series celebrating American craft and the artists who bring it to life. The Craft in America series airs nationwide on PBS.
Sauvion is the Executive Director of the non-profit organization Craft in America, which holds as its mission the promotion and advancement of original handcrafted work through educational programs in all media. Projects include the documentary series; the book, Craft in America: Celebrating Two Centuries of Artists and Objects; and two inclusive websites: www.pbs.org/craftinamerica, www.craftinamerica.org. The Craft in America Center, located in Los Angeles is open to the public, and supports exhibitions with catalogs, artists' talks
and workshops and provides access to a large craft library. Craft in America projects also include outreach to six public schools in the Los Angeles Unified School District, production of educational guides in conjunction with the premier of each episode, production of short films to enlarge upon materials presented in the PBS series and providing films and shorts to museums and craft organizations nationwide.
To help advance knowledge of the handmade, Sauvion participates in conferences and screenings, juries exhibitions and lectures on craft. She is currently on the board of the American Craft Council.
Craft is Sauvion's lifelong passion. For the past 40 years, she has been the director of Freehand, her Los Angeles gallery specializing in functional craft. Prior to her involvement in the gallery, she was a potter for ten years. She continues to make pots as an avocation. Sauvion earned a BA in Art History from Manhattanville College, Purchase, New York.
2021 CraftForms Award Winner Artists
Best in Show
Mary Zicafoose,  Sandhill Crane Count, Week Number 7, Platte River
Juror's Award for Ceramic
Sheryl Zacharia, Sunset Groove
Juror's Award for Fiber
Stephanie Lael Barrick, Knowing Evil
Juror's Award for Glass
Mark Abildgaard, Fool's Errand
Juror's Award for Jewelry
Arielle Brackett, Environmental Destruction of the Tillamook Rainforest
Juror's Award
Jake Martin, Rain-Maker
Juror's Award
Bridget Parlato, In Honor of Her Honor - "Lace" Collar/Warrior Breastplate
Award of Merit
Carolyn Kallenborn and  Erasto Mendoza , Maiz
Scott Schuldt, Trade Route
Niraja Lorenz, Edge of Chaos
Mike Pugh, COVID-19 Monument
Beth Blankenship, Underwater Village
Honorable Mention
Michael Rohde, Mysterious
Jess Jones, Weeping Quilt 2
Patty Kennedy-Zafred, Spirits Rising
Melissa Engler, Narwhal Spoon
Jennifer Rose Wolken, In Anticipation of a Rare Event
2021 CraftForms Featured Artists
Mark Abildgaard, CA
Miyako Asaba, Japan
Adam Atkinson, NC
Linda Barlow, NM
Stephanie Lael Barrick, DE
Lucrezia Bieler, FL
Beth Blankenship, AK
David Bohnhoff, VA
Anna Boothe, PA
Arielle Brackett, OR
Diana Chamberlain, PA
Kristen Cliffel, OH
Jeffrey Lloyd Dever, MD
Andrew DiPietro, NJ
Alysse Einbender, PA
Melissa Engler, NC
Griffith Evans, NM
Teresa Faris, WI
Elizabeth Frank, AZ
Masha Gazumyan, MA
Tamra Gentry, IL
Dennis Gerwin, NC
Kristina Glick, ID
Aspen Golann, NC
Gabrielle Gould, FL
Rachel Yan Gu, IL
Jennifer Halvorson, IN
Chie Hitchner, AL
Chris Irick, NY
Jess Jones, GA
Lena Kaapke, Germany
Carolyn Kallenborn, WI
Floor Kaspers, The Netherlands
Patty Kennedy-Zafred, PA
Kathy King, NC
Kathy Knapp, OH
Meredith Knight, AL
Mark Kobasz, PA
Connie Lippert, SC
Julie Long Gallegos, CA
Niraja Lorenz, OR
Terrie Mangat, NM
Anne Maraviglia, IL
Jake Martin, VA
Phill Mason, Australia
Jesse Mathes, CO
Molly McLaughlin, NH
Erasto Mendoza, WI
Taylor Mezo, IL
Carol Milne, WA
Kazuo Morita, Japan
John Albert Murphy, MI
Maxwell Mustardo, NJ
Clare Nicholls, MD
Mitchell Noah, MD
Richard Nolan, NY
Mary Kay Palazzo, OH
Sharron Parker, NC
Bridget Parlato, MD
Molly Peacock, CO
Kenny Pieper, NC
Mike Pugh, MD
Lisa Beth Robinson & Kristin Thielking, NC
Michael Rohde, CA
Catherine Satterlee, DC
Scott Schuldt, CT
Meredith Setser, IN
Terri Shinn, WA
Kathran Siegel, PA
Nancy Slagle, TX
Deborah Smith. FL
Aric Snee, MD
Carol Snyder, OH
Mary Stafford, WA
Courtney Starrett & Susan Reiser, NY
Phyllis Kudder Sullivan, NY
Will Van Dyke, IL
Regina Vorgang, CA
Barbara J. Walker, OR
Jessica Walton, MD
Stuart White, ME
Jennifer Rose Wolken, MO
Sheryl Zacharia, NM
Mary Zicafoose, NE