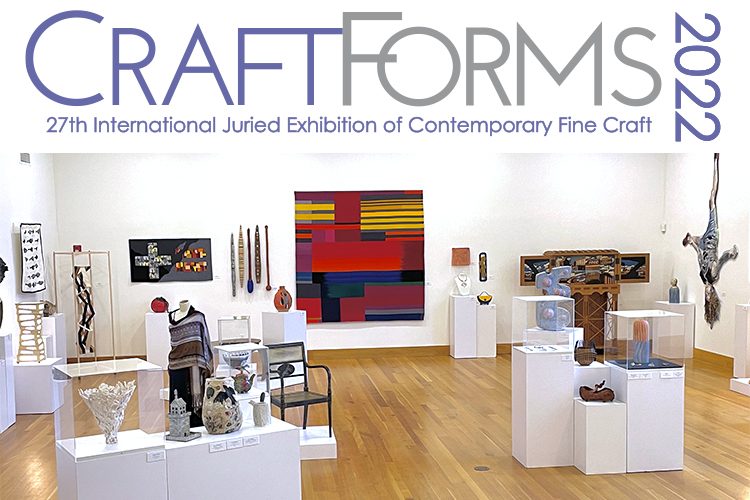 Past Exhibitions
CraftForms 2022, 27th International Juried Exhibition of Contemporary Fine Craft
December 3, 2022 – January 21, 2023
Davenport Gallery
CraftForms 2022, 27th International Juried Exhibition of Contemporary Fine Craft
Showcasing works in basketry, ceramics, decorative fiber, furniture, glass, jewelry, metal, mixed media, paper, wearable art, and wood. Also on view, Attraction To Abstraction 2022, a CraftForms companion show of large abstract paintings by our adult students and WAC community members. This exhibition will hang in the Vidinghoff Lobby and WAC Lobby Galleries during CraftForms.
EXHIBITION DATES
December 3, 2022 – January 21, 2023, Free and Open to the Public.
Monday–Friday 10:00 am - 5:00 pm, Saturday 10:00 am – 4:00 pm
Closed on Sundays and Holidays
For more information about CraftForms 2022 visit  www.craftforms.org.
VIEW CRAFTFORMS 2022 ONLINE GALLERY
OPENING RECEPTION WEEKEND
CraftForms 2022 Preview Party
Friday, December 2, 2022, 7 - 10:00 pm
Help us celebrate CraftForms 2022 and catch the first glimpse of selected works while enjoying food from Catering by Design, fine wines, the CF22 martini luge and jazz by Phyllis Chapelle. Awards of $10,000 will be announced at the party.
CraftForms 2022 Juror's Lecture and Meet the Artists
Saturday, December 3, 1 - 3:00 pm
VIEW VIDEO OF CraftForms 2022 Meet the Artists and Juror's Talk
ABOUT THE JUROR
Jeannine Falino– Curator, Writer and Lecturer
Jeannine Falino is an independent curator and museum consultant working in craft, design, and American culture. Her wide-ranging projects have explored virtually every age of American art, from the colonial era onward. Formerly curator of American decorative arts at the Museum of Fine Arts, Boston, she now develops exhibitions, catalogues, and books for museums, art organizations, and collectors. 
Recent exhibitions include New York Silver, Then and Now, a dialogue between contemporary artists and the historic silver collection of Museum of the City of New York (2017), the major survey exhibition Crafting Modernism: Midcentury American Art and Design, and What Would Mrs. Webb Do? A Founder's Vision, an exhibition on the role of advocacy and philanthropy in American craft (Museum of Arts and Design, 2011 and 2014).  Jeannine teaches the history of American craft and the history of American ceramics at Parsons, The New School.