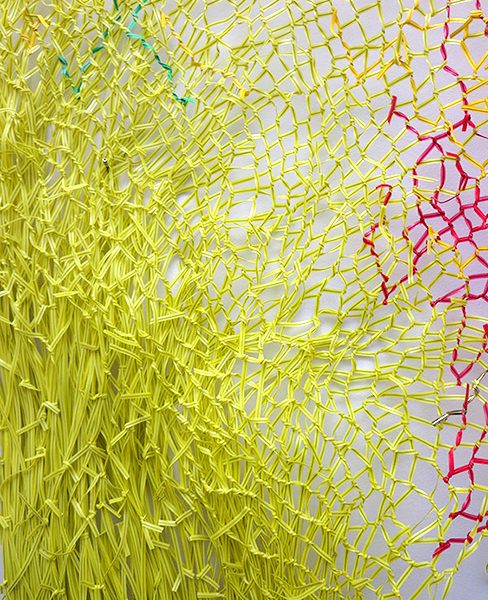 Past Exhibitions
Making Marks
December 2, 2016 – January 28, 2017
Ethel Sergeant Clark Smith Gallery
Making Marks will present fibers and textile artists who have been working on various methods and processes in this medium to express their inner voice.  Each artist addresses his or her own way of creating marks of color, line, texture, image, pattern, shadow, space, and even sounds through timeless investigation in the process.  Their works examine and manifest the beauty of repetition and the metaphor of strength.
Curated by Mi-Kyoung Lee.
Mi-Kyoung is the Program Director of Craft and Material Studies at The University of Arts, Philadelphia, PA.
Want to learn more about each work on exhibit?
View the Making Marks Artist Statement Book here
View the Making Marks Catalog here
Exhibiting Artists
Danielle Bodine, WA
Susie Brandt, MD
Andrew Dahlgren, PA
Carla Fisher, PA
Cynthia D. Friedman, PA
Qiang Gong, IL/China
Jesse Harrod, PA
Jeanne Jaffe, PA
Mi-Kyoung Lee, PA
Kristin Miller, OR
Warren Seelig, ME
Piper Shepard, MD
Heather Ujiie, PA
Pasi Valimaa, Sweden
Dot Vile, PA

Opening Reception: December 2, 6:00 – 10:00 pm
Juror's Lecture and Meet the Artists Discussion: December 3, 2:30 – 4:00 pm
Image: Mi-Kyoung Lee