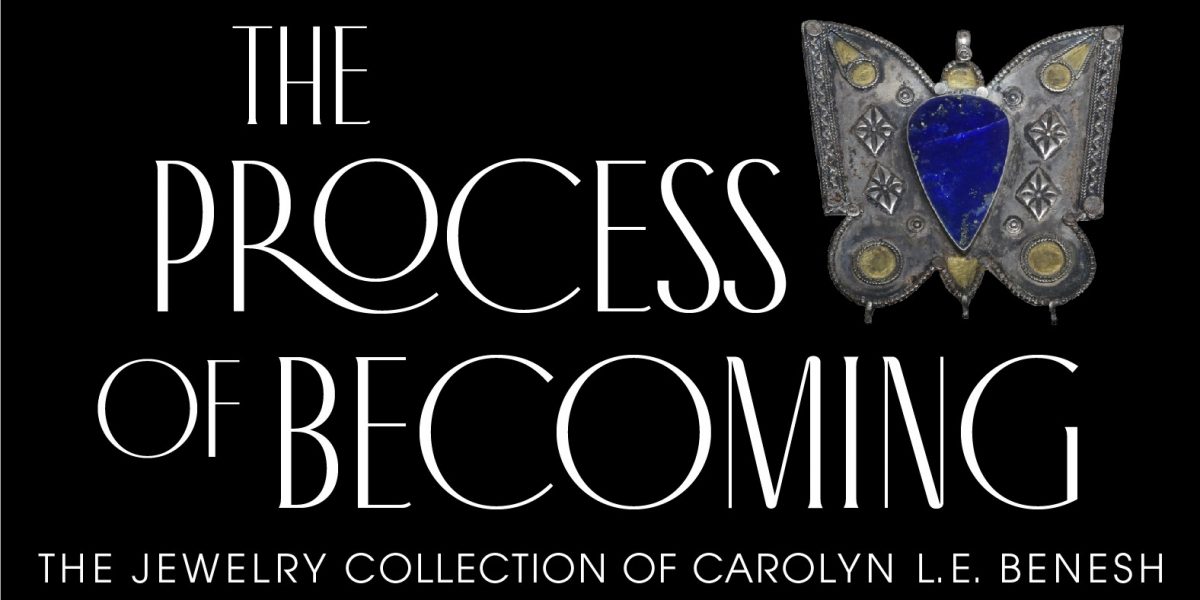 Past Exhibitions
The Process of Becoming
The Jewelry Collection of Carolyn L.E. Benesh
December 4, 2021 – January 29, 2022
Ethel Sergeant Clark Smith Gallery
On display in the Ethel Sergeant Clark Smith Gallery as this year's CraftForms Companion Show, The Process of Becoming: The Jewelry Collection of Carolyn L.E. Benesh, will showcase the jewelry collection of the late Carolyn Benesh as it narrates the story of a life fueled by a passion for the created object and the friendships that were a rich byproduct of that quest. Carolyn was founding editor of Ornament Magazine along with husband, Robert Liu wherein they celebrated and documented the human tradition of wearable expression. Ornament Magazine's current co-editors Robert Liu and son Patrick Benesh-Liu have selected one hundred pieces from Carolyn's personal collection to be featured on view. This exhibition has been conceived and supported by CraftForms juror, Carol Sauvion and Emily Zaiden, Director and lead curator of the Craft in America Center.
The Process of Becoming, The Collection of Carolyn L.E. Benesh includes pieces by the following artists: Aldrich Arts, Carolyn Morris Bach, Shellie Brooks, Heinz Brummel, Jessica Calderwood, James Carter, Jane Coursin, F. Dagg, Tina Johnson DePuy, Kathleen Dustin, Ford & Forlano, Theodora Elston, Christina Anna Eustace, Donald Friedlich, Karen Gilbert, Sylvia Gottwald, Reiko Ishiyama, Christina L. James, Hilde Janich, Svatopluk Kasal, Joel Kewa, Judith Kinghorn, Karen Krieger & MM, David LaPlantz, Marcia Lewis, Nel Linssen, Robert K. Liu, Ken Loeber, Anthony Lovato, Mary Coriz Lovato, Tom Mann, Miao, Barbara Minor, Holly Anne Mitchell, Maria C. Moya, Coen Mulder, Steven Myhre, Kevin O'Grady, Rita Okrent, Claire Sanford, Jimina Sarno & Leonardo Gia, Lawrence Saufkie, Biba Schutz, Michael Slim, Ramona Solberg, Bhagwan Das Soni, Dharmendra Soni,  Patricia Telesco, Judith Ubick, Fumiko Ukai, Myung Urso, David Watkins, David & Roberta Williamson, Nancy Worden, Jan Yager, Yemeni, Hsiang-Ting Yen.
Process of Becoming, The Jewelry Collection of Carolyn L.E. Benesh
Visit  The Virtual Exhibition Courtesy of Ornament Magazine Here.
Craft In America: Ornament Magazine preview
View The Process of Becoming Curators' Talk Video by Main Line Television